---
1. As an Amazon Prime member you are already paying for unlimited photo storage and 5 GB of storage for videos, documents, etc. If you want to keep your videos with your photos you may need to upgrade from the free 5 GB storage but at $2.79/month or $24.99/year for 100 GB it's still the most reasonably priced alternative available. If you are not an Amazon Prime member you can purchase 1 TB of storage for $13.99/month ($167.88/yr)

2. Amazon Photos offers UNLIMITED photo storage. You can save your entire collection here.

3. Amazon Photos saves your photos in full resolution, they do not compress your images.

4. Amazon Photos keeps your metadata attached – all the information recorded by the camera, like the capture date and any geotagging, as well as any metadata you've added like tags or keywords.

5. Amazon Photos offers an app for our phones so that when we take a picture it is automatically uploaded to the site and stored in our collection. This copy acts as a back up copy of the picture on your phone. If you delete the picture on your phone by accident, it doesn't change the copy in Amazon Photos.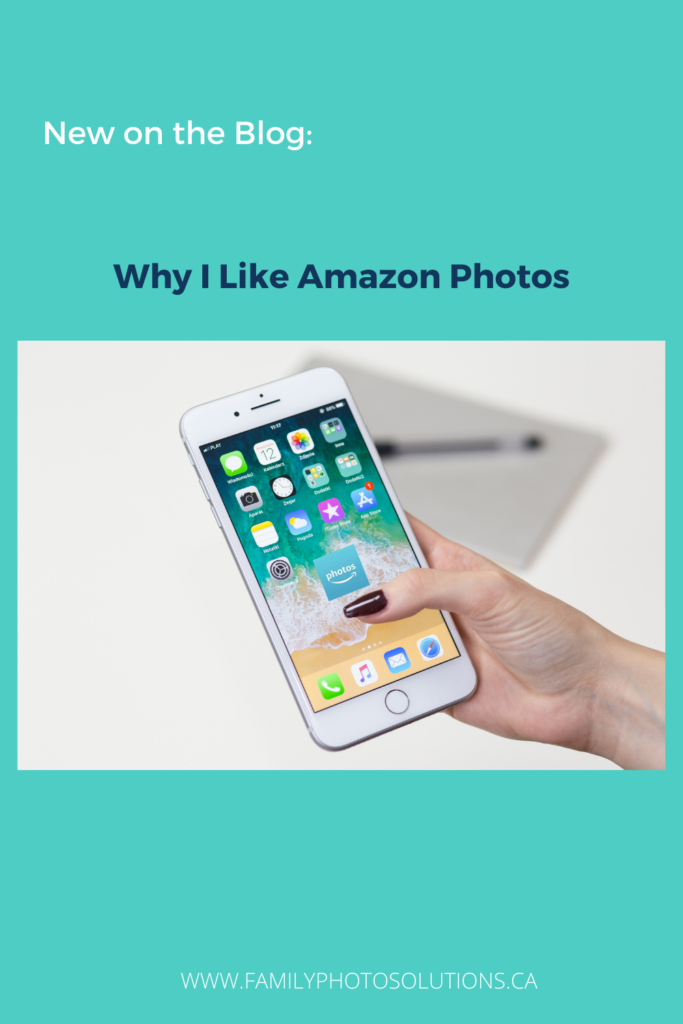 6. Amazon Photos will also AUTOMATICALLY re-name your photo from img_3456 to the date it was taken. This is a huge step in organizing photo collections and Amazon does it for us! This new name stays with the photo when you download it so it's easy to organize these images later.

7. Amazon Photos will let you organize your photos into Albums. It also has facial recognition to help you personalize and search your collection. They have an image recognition feature to make your photos searchable by person, place, or thing.

8. Amazon Photos allows you to upload your photos from different locations – more than one phone, more than one computer. It will keep these uploads in different folders in the background and display everything as a single collection. You can even set it to watch a folder on your computer and when you make changes, like adding new photos, it will upload them to Amazon Photos automatically. You can see the file structure behind the scenes by going to Amazon.ca/clouddrive

9. Amazon Photos protects your privacy without having to change any confusing or complicated settings.

10. Getting your photos out of Amazon Photos is easy. They don't compress your images or strip the metadata so when you download a photo from the site you get back exactly what you uploaded to begin with. Actually, it's better if it was uploaded from your phone as it's been re-named to the capture date!

11. You can also create a Family Vault to easily share photos. You can invite up to 5 other people to join and connect photo accounts. You have the option to add a photo to the Family Vault when you upload it, not all photos will be shared.
Amazon Photos Wishlist – my wish list currently has two items, that I could search my photos by the keywords I've manually attached to them and that they had better customer support, I suspect there's a size limit to the videos we can upload but I have been unable to confirm exactly what it is.

As with any cloud service remember that we are using their service and that they can change this service at any time. Be sure to keep another copy of your photos and videos in a different location.