It's important to document your personal possessions in case of fire, flood or theft. About 25 years ago my home was broken into while we were at work. We had to make a detailed list of the items that were stolen to complete our insurance claim. The thieves had taken a drawer full of CDs, drawer and all, and there was no way we could even agree on how many CDs we owned. I could identify the expensive pieces of jewellery that were taken, but I could not itemize the other pieces. We were not prepared. Had we documented our personal possessions we could have supplied a more complete list of the items that were stolen and maximized our claim payment. Not to mention speeding up the claim process and reducing the stress involved!
One of the best ways to begin documenting your personal possessions is with a home inventory video. Walk around your home and make a video in each room. The video provides visual proof of your possessions, and can help you make a more detailed, itemized list. It's very difficult to remember details and the video can help with any future insurance claims. Be sure to upload your finished video to cloud storage, it's important to keep a copy in a separate physical location.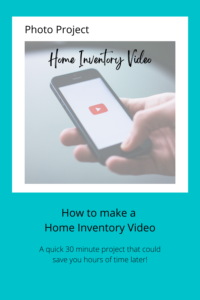 When making your video, film one room at a time. Turn on all the lights and open any cabinets or drawers. First do a full scan of the room. You want to capture the general layout, window coverings, art on the walls and the floor coverings. Next walk slowly around the room and video every item. Be sure to scan slowly. Video the contents of each cabinet, drawer, and closet. Narrate as you video, share what it is you're looking at "16-piece Denby dinnerware set Azure Haze, 8 Mikasa wine glasses, 12 white linen napkins" etc. Record anything you can remember about an item's history, value, and description. Zoom in on the serial numbers of electronics and appliances. I like to write them on sticky notes before I film so I can just video the sticky note with all the information stuck to the front of the item. Record the make, model, and serial number wherever you can.
Be sure to include the following:
All high value items – furniture, appliances, furnace, hot water heater, air conditioner, freezer, vent hood.
All electronics – computers, modems, printers, scanners, cameras, record players, speakers, phones
Items in the garage – lawn mower, snow blower, tools, sporting equipment, bikes, camping gear
Jewellery – lay it out so it's easy to see individual pieces. Include any men's items like cuff links, chains, rings and watches. You should have expensive pieces professionally appraised. Photograph or video the appraisals and hold the piece of jewellery so you can see it from all side.
Clothing – as you film your clothing you can simply give a count of the number of items "6 pairs of jeans, 10 dress shirts, 3 suits", etc. Include shoes, boots, coats, and purses.
Kitchen – dinnerware, drinkware, small appliances, linens, a look in every drawer and cabinet.
Toys, books, musical instruments, music collections, wine, or liquor collections
Art – note the artist's name and any other information about the piece. Valuable art should be appraised by a professional. You can photograph or video a copy of the appraisal.
Decks and Patios – any furniture, BBQ, outdoor play equipment
Basements – any items in storage in your basement, attic, closets, or storage spaces
Off-site storage – include anything you store outside your home in storage facilities
Vehicles – cars, motorcycles, RVs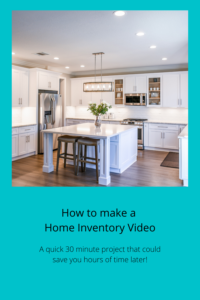 I suggest you shoot each room as a separate video. This makes it easy to update your video collection when you make changes to a room. Once your videos are complete, begin writing a list of all the items along with information like the brand, make, model, serial number, date of purchase, where and when it was purchased and pictures of any receipts. There are lots of Home Inventory apps available to help with this documenting task. Check out Sortly, Inventory Manager, BluePlum Home Inventory, Encircle, or Allstate Digital Locker. Once you've completed the videos and the inventory list of your personal property you should review it and update it every year. You can also check to see if you are properly insured for the value of your personal possessions.
When should you start this project? Now. The sooner the better. Start with the videos, a quick 30 minute walk around your house could make a huge difference if you ever have to file an insurance claim for your personal property. I hope you never have to use these videos, but it you do, you'll be very glad you have them!