Often each family has one person who becomes the family historian, either by choice or by default. We know the family historian wants to share photos with the family, often they just don't know how. Here are some great ways to not only share the photos but to make sure you are honouring your family's history and sharing them in the best possible way.
Prepare your photos for sharing
If you are the family historian and are the keeper of the treasure trove of printed photos, it's very easy and safe to have them scanned to create digital copies. There are some important benefits to doing this:
You create a back up copy of the original photo
You can easily share a copy to anyone who wants to have one in their own collection
You capture the photo in its current state, before any further deterioration or damage
When scanning family photos resolution matters. Many of us scan photos with our phones but these scans are not as high quality as you can obtain with a professional scanner and therefor limits what you can do with these digital images. Scanning a quick photo to share on social media? Use a scanning app on your phone! Preserving your families' photos for generations to come? Honour them by scanning at a high resolution with a professional scanner. As a general rule, scanning your photos at 600 ppi allows you to print a great copy of that photo at 2x the original size.
Another important thing to consider is the metadata attached to the digital image. When we scan a photo, the software puts the date of the scan in the "Date Created" field. Always change this date to better reflect the date the original photo was taken. Many old photos will have writing on the back, simply enter this information to change the date field on your scanned image. Determine a family wide naming convention for dating photos. We use "01" for any information we don't know. If my photo has April 1968 written on the back, I will use the date 04/01/1968. If it just has 1968 written on the back, I will use the date 01/01/1968. If I know the photo was from the 1960s, but I don't know the actual date, I will use 01/01/1960. This at least places the photo in the correct decade.
You can also save any other writing on the back, the who, where, what and why that tells the story of the photo. Add this information to the "Description" field of your digital image.
Finally, rename your scanned images. The name the scanner applies is meaningless to your family. Use the date of the photo, the event, or your family name to make it easier to organize your photos and for your family to understand where the photo belongs in your family history.
This preparation phase is the hard work of the family historian. Do as much as you can before sharing the photo collection so everyone who chooses to download a copy of the photo gets as much information with it as possible. This phase can also be fun as you put on your detective hat and hunt down as much information about your photos as you can find. Enlist the help of other family members!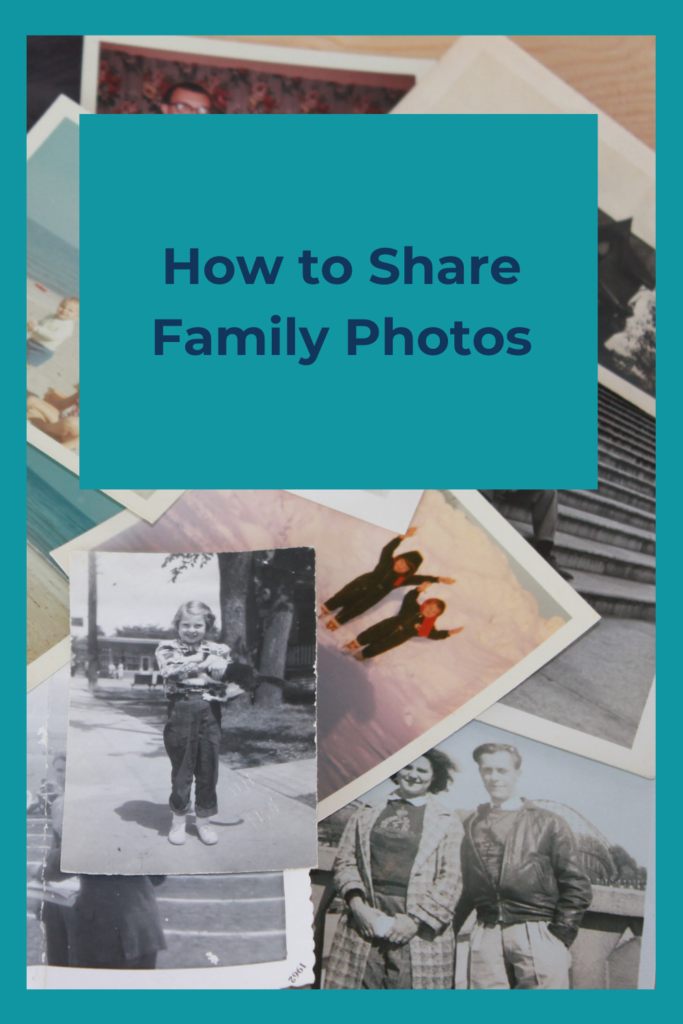 Sharing your photos
There are a lot of great photo sharing websites you can use to share your photos with family. After doing all the hard work preparing your photo collection you want to be sure to choose one that allows you to save your photo in full resolution, save the metadata you've attached, display the photo's name and metadata, and allow your family to download a copy of any photos they want to keep – in full resolution and with all the metadata attached.
Other considerations include the way the site displays your photos, if it displays the photo's name and metadata, the privacy of the site, the security of your collection, and how easy it is for your family to access the photos.
My favourite photo storage site for sharing photos is SmugMug. It is actually a site developed for photographers to share their work so it displays your photos beautifully. It's easy to set up, organize, secure, and share. I can share any part of my collection by sending my family a link they click for access. They can download any photo they want that I have given them access to. I keep all the photos from both sides of my family here and I can give my aunt on my Dad's side access to their family photos without her having to search through all the photos from my Mom's side of the family. This site is very reasonably priced for everything I can do with it. Take a look at www.smugmug.com
I also like Flickr for sharing photos. Flickr was purchased by SmugMug a few years ago but it still has the look and feel from when it was originally developed. Flickr was made for sharing photos and has a beautiful way of displaying them. It's easy to set up, secure and share with a link. I use Flickr to share smaller, more current collections of photos. I'll create a collection of pictures from our recent hiking adventures or a family trip and share those with friends and family. Flickr is also very reasonably priced and allows you to upload 1000 photos for free so give it a try. www.flickr.com
Another option to consider is Forever. This company offers a permanent digital home for your photos for your lifetime + 100 years. They are built for sharing family stories and offer an excellent service. They are more expensive so I would consider using this platform for a curated collection you want to preserve for generations. See what they offer at www.Forever.com
We also share family photos through the Nixplay digital frames. Nixplay has a website where we can all contribute photos that will be displayed on the network of frames attached to that website. Did you go see Santa today? Upload those photos and grandparents anywhere in the world can see them on their frames. It's a very different way of thinking about sharing but it's also easy to set up and use. Consider using something like these frames to get the family talking about stories you can add to your master photo collection. www.nixplay.ca or www.nixplay.com
Finally, send an introduction to your photo collection to your family. Explain the conventions you've used for dating the images and how you've preserved the writing on the back of the photos. Invite them to share any other information they have about the photos. If you receive more information about a photo, be sure to update your master collection and share that information with everyone. A family photo collection doesn't have to be just a box of photos sitting in the closet making you feel guilty. There is great joy in being the family historian and preserving and sharing your family photos and stories!