Graduation is an exciting time. It's a right of passage and marks a time of big changes in your graduate's life. Hopefully we'll be able to celebrate graduations this year!
Many families like to mark this occasion in a special way, often creating a slideshow, video or photo book. Here are some things to think about if you want to create one of these special projects.
Start now! They take longer than you think they will. If you want to present them or use them around the time of the graduation, it's best to have everything prepared well ahead of time. If you plan to include some pictures of your grad in their robes or from their graduation ceremony, I suggest you have everything else finished and just slot these pictures in at the last minute.
If you are making a photo book you will need to decide whether you want to have the book ready to present to your graduate at the time they graduate, or if you will want to include pictures of your grad in their cap and gown and some of the graduation festivities. With a slideshow or video, you can just add your last-minute photos and clips to the end before you finalize it.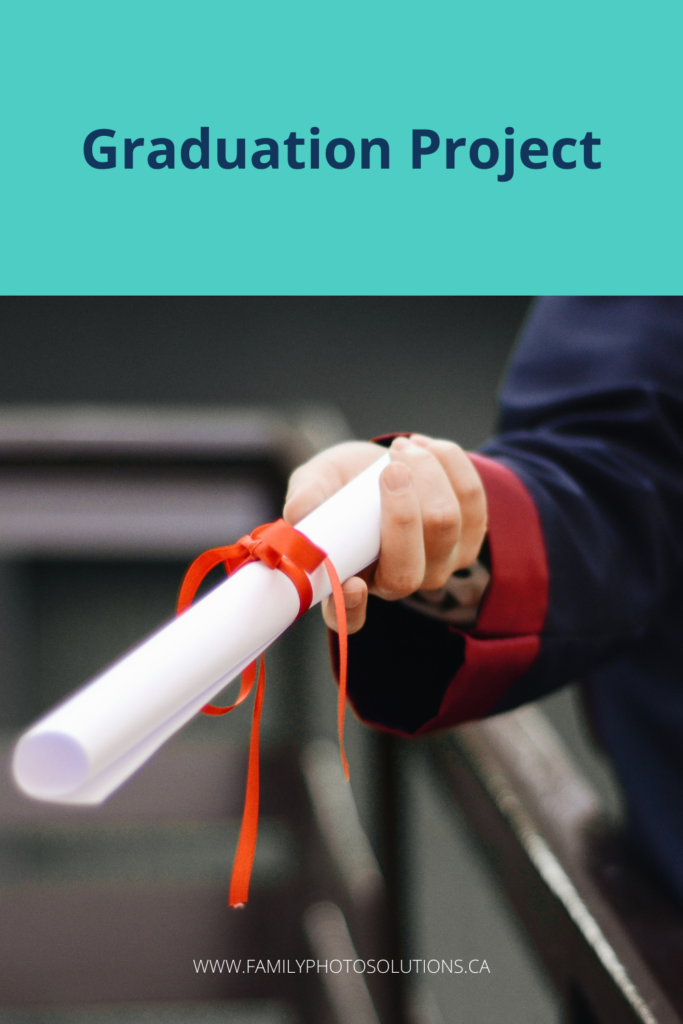 Here are some things to think about as you work on your Graduation Project:
Determine your scope. What time period will you cover? What types of pictures will you include? How long would you like your finished product to be?
Collect your pictures and video clips. Make copies and store them in their own folder labelled Graduation Project. Organize them as you collect them. Determine a naming system to keep everything in order.
Will you include pictures of family? Take a minute and write down a list of all close family members. Now check your photos and make sure you have everyone included.
Will you include pictures of friends? Make sure all the besties are included if you can. If you will be presenting your project with friends around, you may want to make sure they're all included too.
If your project focuses on the graduation year, sit down and make a list of each of the activities and events. List the photos you'd like to capture at each event. Creating a shot list helps you focus on the pictures you need to take.
If your project encompasses a number of years, make yourself a template to follow. Perhaps you will need 4 photos from each year. Setting this number ahead of time helps you sift through your photo collection faster. Similarly, if you know exactly which photos you are looking for – the first day of school, a picture with the teacher, a picture with the best friend and a highlight from the year – you will find your photos much faster.
Decide how you will use text in your project. If you're making a book, you will most likely want to include some text. If you're making a slide show or video your text may be more limited, but you may still want a title page or to mark the grade or year on some of the photos. Will you collect best wishes from family and friends? Add some details about each school year? Consider using a template for your book pages so you can easily collect the information to be included – grade, teacher, school, friends, favourites.
Aim to be finished most of the project by the end of April. If you are creating a photo book to present to your grad you should send it to be published the first week of May.
Take some pictures of the details – the tassel on the cap, the diploma, the program.
And be sure to capture that big smile! It took a lot of hard work to get here!
Enjoy your graduation celebrations!
If you are making a graduation slideshow be sure to see our 10 Steps for Making a Great Graduation Slide Show Blog Post!